Autzen Stadium Seating Chart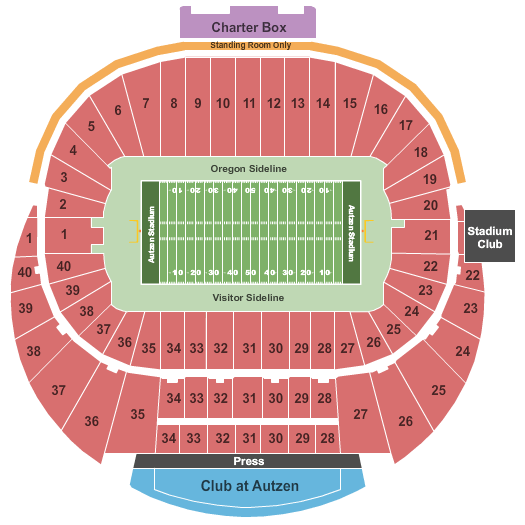 NOTE: Seating configurations can change depending on the type of event. Always check the individual event seating chart when selecting your tickets.
Autzen Stadium Sky Suites
Autzen Stadium Sky Suites offer a premium social environment for between 21 and 44 fans to watch the ducks in actions. These luxury private suites are located on the north and south sides of Autzen Stadium. Amenities include a private Kitchen complete with a wet bar, refrigerator, microwave, private restroom, two color televisions, access to the Club Room, retractable windows, stadium catering, and more. Leases for these special suites are 3-7 years. Please give us a call for more information on the "suite" experience.
The Charter Box
The Charter Box is located on the North side of Autzen Stadium above sections 9-13. These special indoor seats offer an open-air experience for Oregon football. The Charter Box level includes stadium seating, concessions, restrooms, multiple televisions, elevator access and more.
The Club at Autzen
Club seats are located on the south side of Autzen Stadium and it is located at the far top.
Sideline Preferred Seating (Best Seats)
Sideline Preferred Seating is located on the South side of Autzen in the lower sections of 30, 31, and 32 and the upper levels of 28 and 34. These special seats, that are 18″ wide, have chair backs, armrests, cup holders and access to the South side main concourse concessions, shops, and restrooms.
Do go for section 31PR Row 6-17 if possible for the best view! If you are looking to be near the student section, you should look out for section 9 row 33 as it is right next to the student section and it is elevated enough for you to view the whole field.
Secure your seat today by purchasing your tickets. Visit the Autzen Stadium schedule to get started.
To view the ticket & refund policy please read the ticket information page.